Fact Checked
Causes Of Chest Pain
When you have chest pain, your first thought might be that you are experiencing a heart attack.
While chest pain is a probable sign of a heart problem, several other, less severe disorders can also cause chest pain.
Only about 13% of all emergency visits for chest pain lead to a diagnosis of a severe heart-related problem.
Causes of Chest Pain: Heart-Related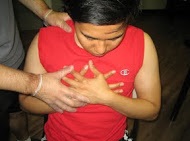 Heart attack.
Aortic separation—an unusual disorder involving a split of the heart's main artery.
Cardiomyopathy—heart muscle disease.
Myocarditis—swelling of the heart muscle.
Pericarditis—swelling of the sac surrounding the heart.
Angina—chest pain due to obstructions in the blood vessels surrounding your heart.
Causes of Chest Pain: Gastrointestinal
Acid re-flux (also known as heartburn).
Problems with swallowing connected to disorders of the esophagus.
Gallstones or swelling of the pancreas or gallbladder.
Causes of Chest Pain Lung-Related
Pneumothorax – a leak of air from your lung into your chest.
Viral bronchitis.
Pneumonia
Causes of Chest Pain:  Muscle or Bone
Injured or broken ribs.
Aching muscles from physical exertion or chronic pain.
Compression fracture, placing direct force on a nerve.
Further Causes of Chest Pain
Shingles—an infection the affects the nerves and skin as caused by the chicken pox virus.
Panic attack – an unexpected episode of extreme fear when there is no real risk or cause.
Related Video On Chest Pain