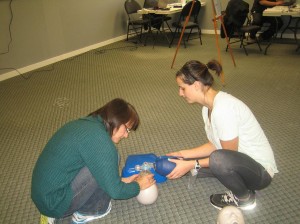 The best first aid, cardiopulmonary resuscitation (CPR), and automated external defibrillation (AED) training courses can be found with Winnipeg First Aid. Winnipeg First Aid offers trainees the largest selection of courses in the Winnipeg area – all for the cheapest rates. This provider offers a wide range of services including re-certification courses, Mask Fit testing, WHMIS online, TDG online, first aid attendant rentals, first aid supplies and sales, AED training, and more. Registration for courses and all purchases can be completed online at any time. Registration for first aid training in Winnipeg can also be completed by telephone or email ([email protected])
For a complete list of classes, schedules, and enrolment fees, visit the Winnipeg First Aid website here. An online application form is available through the link.
Registration Information
To enroll and register in a training course with Winnipeg First Aid, use the following contact information:
Registration Phone Number: 204-272-8720
Email Address: [email protected]
Website: www.firstaidwinnipeg.ca
Main Training Office: 222 Osborne St, Unit 20, R3L1Z3, Winnipeg
You can also complete your enrolment via e-mail, telephone call, or walk-ins at the training center during business hours.
Training Center Location
The main training location in Winnipeg is located just south of downtown Winnipeg in Osborne. Plenty of free parking and access to public transit is available within walking distance. Check out the map below for more information about the location or directions.

View Larger Map
Most Competitive Costs for St Mark James First Aid and CPR Training
Winnipeg First Aid offers a variety of St Mark James courses and refreshers for the lowest rates. Rates are inclusive of taxes, certificates, St Mark James registration fees, and training manuals. Trainees don't have to worry about additional expenses. Courses range in price from 54.99 to 114.99, depending on the level of the training course and certification you need.
Full refunds are given to trainees who do not finish the course, as long as a 72-hour notice is provided prior to dropping out.
Large Array of Classes Available in Winnipeg First Aid
There is no other training service provider of St Mark James certification courses that offers more classes than Winnipeg First Aid. Listed below is a summary of readily available courses through Winnipeg First Aid.
Standard first aid and cardiopulmonary resuscitation (CPR)
Standard Childcare first aid and cardiopulmonary resuscitation (CPR)
Emergency first aid and cardiopulmonary resuscitation
Emergency Childcare CPR and 1st aid
Basic Marine 1st aid
Babysitting CPR and first aid
Cardiopulmonary resuscitation (CPR) level "C" for health care providers (CPR "HCP") and AED
Cardiopulmonary resuscitation (CPR) A and AED
Cardiopulmonary resuscitation (CPR) -C
Full CPR/AED training courses include first aid training. CPR Level "A" offers basic CPR and AED training for adult and child victims; CPR Level "C" offers basic CPR and AED training for adult, child, and infant victims, along with basic first aid; and CPR Level "HCP" which offers comprehensive CPR and AED training for health-care providers.
First aid classes are very comprehensive and detailed. They cover a number of emergency situations and the associated first aid skill for specific injuries. Skill training is a major part of the learning process, with trainees practicing skills such as bandaging on high-end training equipment.
Trainees will learn the following basics:
How to stay safe when providing 1st aid or CPR
The legal implications of providing help
When and how to use bystanders to contact emergency medical services (EMS) / 911
How to manage victims with obstructed airways (choking)
When and how to provide cardiopulmonary resuscitation (CPR)
When and how to use and apply an automated external defibrillator (AED)
What to do when someone has deadly external bleeding
Stand-alone classes for first aid or CPR/AED are also available. Private classes are usually taken by big groups of trainees or trainees with scheduling problems.
St Mark James Certification for Winnipeg First Aid
All trainees that successfully pass any of St Mark James training courses receive a certificate for first aid, CPR, and AED training, valid for three years throughout Canada. Refresher courses for expiring certificates are available with this St Mark James training provider.
Did You Know?
Basic Life Support
Basic Life Support was created by the American Heart Association to save lives after a person becomes a victim of cardiac arrest. The BLS includes (1) recognition of SCA or sudden cardiac arrest, (2) activation of the emergency response system, (3) early cardiopulmonary resuscitation, and (4) rapid defibrillation with an automated external defibrillator.
The 2010 BLS Guidelines emphasize the following:
Recognition of SCA is based on (1) unresponsiveness and (2) absence of normal breathing such as gasping or not breathing at all
"Look, Listen, and Feel" was removed from the 2005 BLS algorithm
Sequence change from A-B-C (airway, breathing, circulation) to C-A-B, in terms of priority
Hands-Only CPR or continuous chest compression over the middle of the chest for the untrained rescuer
Continuation of CPR until the return of spontaneous circulation (ROSC)
Sign-up for first-aid education with Winnipeg First Aid to be certain you receive the finest quality programs at the most affordable prices.