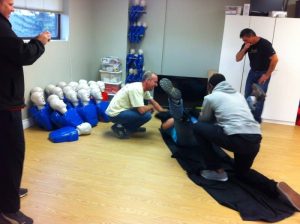 Vancouver First Aid (VFA) is the largest, most popular, and most experienced first aid, food-safe, mask fit TDG, and WHMIS provider in the Lower Mainland. In the early fall of 2016, it opened a brand new location in Coquitlam, B.C. Located just North of Lougheed and the Trans Canada Highway it is located at 927 Brunette Ave. This new training facility is located near the border of New Westminster and Burnaby with excellent access to all forms of transportation. Free parking and quick access to public transit are available. Plenty of restaurants are located nearby to provide participants with many options during breaks/lunch. Register by telephone (778-709-9180), email ([email protected]), or by the website for first aid training in Coquitlam today.
What's So Great About the New Location for First aid training in Coquitlam?
VFA is proud to have a new location that now serves the Tri-cities area including Burnaby, New Westminster, Port Coquitlam, and Downtown Coquitlam. This means Red Cross first aid courses are offered at low prices throughout the week as well as experienced teachers in a comfortable, clean, and new classroom.

Here are some other factors that make this location so great:
Free parking (underground and above ground).
5-minute walk to a Skytrain station
Near three major roads: Trans Canaday Highway, Brunette Ave, and Lougheed (Nearby Blue Mountain Street)
Lots of places to eat nearby
Easy to find as the training center is located
What Types of Courses Are Available for First aid training in Coquitlam?
Participants can register for the following types of courses:
Online, followed by in-class examination, food safe level 1 training
30 Minute 3M Qualitative Respiratory Mask Fit Testing
One Day WEFA (OFA level 1 equivalent) first aid course
Online WHMIS and TDG Training
Online, followed by an in-class examination, Boat Safe training
Red Cross standard, emergency, childcare, and babysitting first aid
Stand-alone CPR 'A', 'C', and 'HCP' classes
The following services are also available in Coquitlam, B.C. with VFA
First aid kit supplies, kits, and re-stocking
First aid workplace safety audits
AED supplies and sales
What Makes VFA so Great?
Here are some of the top reasons that make VFA the best provider in the Lower Mainland:
Long office hours: customers can call in for questions, registrations, or comments between the hours of 7 am and 7 pm. That's 12 hours of service!
Course prices are significantly cheaper than other major competitors in the area. Sometimes as much as 30%!
A great refund policy: As long as you call / email more than 72 hours in advance of the class you can get a full refund or transfer to another date/time.
No pressure policy: if you attend 100% of the course but don't pass the exam you can re-take the course one time.
What Topics Will I Learn About in a Course?
The following topics are covered in a basic first aid course:
Scene Assessment
Primary Survey
Secondary Survey
Deadly Bleeding
Cardiopulmonary Resuscitation
Circulatory and Respiratory Emergencies
Broken bones, fractures, and amputations
Head and neck injuries
Muscular injuries
Hypo and hyperglycemia
Sudden medical emergencies
Environmental emergencies
Learn to manage any emergency by enrolling in first aid and/or CPR course in Coquitlam, B.C. with VFA!