Emergency 1st aid courses are one of the most popular basic first aid classes available. This is an 8-hour course that includes cardiopulmonary resuscitation (CPR) and automated external defibrillator (AED) training. This course is typically completed within one day. This course is designed for people that only need a basic understanding of 1st aid and CPR. Re-certification courses are available for this course in some provinces. CPR level "A" training comes standard with this course but candidates may have the option of selecting a higher level of CPR, like CPR level "C", to accompany the 1st aid certificate. Sign up for a class.
Emergency 1st Aid and CPR Course Content:
Candidates who register in this course will learn about the most common 1st aid and CPR emergencies. The following is a list of the course content for emergency 1st aid classes: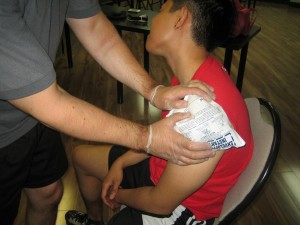 CPR for adults and children
Obstructed airway CPR for adult and child victims (choking emergencies)
Recognition and application of an AED
Recognizing and treating victims of cardiovascular disease (heart attacks, angina, TIA's, and strokes)
Recognizing and treating victims of respiratory emergencies such as anaphylaxis, aspiration, hyperventilation, and asthma
Treating victims of deadly bleeding.
Treating victims with broken bones and fractures.
Emergency 1st Aid Course Providers:
All of the major 4 first aid training providers offer this course. Those providers include:
St. Johns Ambulance
St Mark James Training
The Heart and Stroke Foundation
The Lifesaving Society
CPR Training including in Course:
Candidates have the option of selecting either CPR level "A" or CPR level "C" with the course depending on the provider.
Locations:
We have partnered with training locations throughout Canada in Vancouver, Surrey, Calgary, Edmonton, Saskatoon, Regina, Winnipeg, and Ottawa. Click on the location of your choosing from the side menu bar to be re-directed to that location.
Course Length:
The length of an emergency 1st aid and CPR course is 8 to 10 hours. Course length depends on the provider, training partner, and ultimately the instructor.
Emergency First Aid and CPR Course Cost:
We have partnered with the providers that offer the highest quality and most competitively priced classes in Canada. Course fees vary depending on the location from 120 to 140 dollars. Course fees include taxes, training manual, and emergency 1st aid certification fees.