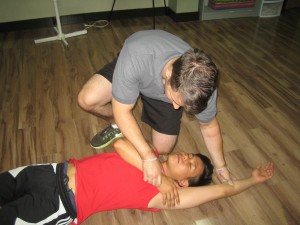 Since 2010, Vancouver First Aid has remained the top-tier training provider for first aid, cardiopulmonary resuscitation (CPR), and automated external defibrillation (AED) classes all over the Vancouver Lower Mainland. Courses are available in downtown, Richmond, Burnaby, Coquitlam, Delta, and Surrey. Classes are all overseen by workplace and academic-approved certified instructors so you're sure to get the best training possible. Instructors are fun and experienced and provide a learning experience that caters to a wide range of learning methods. Participants will learn with hands-on training without significant time spent on lectures. A wide range of resume-enhancing courses is available including online WHMIS and TDG courses. Food safe level 1 and 2 classes are also available.  Registration can be completed on our "register" page or you can use the contact information available on this page. Learn to help victims of severe injuries and medical emergencies by enrolling in first aid training in Vancouver today.
Sign up for a first aid training course here! Clicking the link will direct you to the Vancouver First Aid website.
Enrolment and registration
Registration for any course can be completed using the following details
Website: www.vancouverfirstaid.ca
Telephone Number: 778-709-9180
Email: [email protected]
You may also send an e-mail to [email protected] if you have any inquiries regarding enrolment or offered classes and schedules.
Most Competitive Fees in the Lower Mainland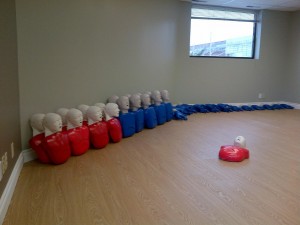 Vancouver First Aid offers potential trainees the most competitive rates for all its first aid instructional classes. All course rates are inclusive of taxes, certificates, St Mark James registration fees, and training manuals and equipment.
Standard first aid, CPR, and AED – 130.00
Emergency first aid, CPR, and AED – 75.00
Emergency Childcare first aid, CPR, and AED – 75.00
CPR level "A" and AED – 45.00
CPR level "C" and AED – 55.00
CPR level "C" for Health Care Providers and AED – 60.00
Trainees who are unable to complete the training course are entitled to a full refund, provided a 72-hour notice prior to dropping out is given.
Largest selection of training courses at Vancouver First Aid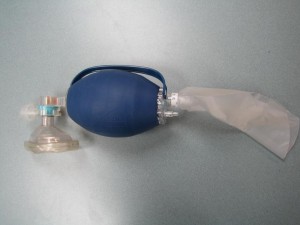 All instructional classes are held throughout the week, including evenings and weekends for popular classes. CPR courses are available in three levels: CPR Level "A" offers basic CPR and AED training for adult victims; CPR Level "C" offers basic CPR and AED training for adult, child, and infant victims and CPR Level "HCP" offers comprehensive CPR and AED training for health-care providers.
Popular first aid courses such as standard and emergency first aid allow participants to select the level of CPR training to partner with the course. Childcare and occupational first aid do not provide participants with the option of selecting the level of CPR to partner with the course.
St Mark James Certification
Trainees who are able to complete their enrolled training course are awarded a St Mark James training certificate, valid for three years throughout Canada.
A number of high-end training facilities in Vancouver First Aid
A number of training centers are available throughout the Lower Mainland for the convenience of Vancouver First Aid's trainees. All centers are equipped with the latest first aid, CPR, and AED training equipment, with spacious classrooms that are very well-maintained. The following maps show the two main training centers in Vancouver
Yaletown (Down-Town) Vancouver

East Vancouver Training Centre

Private Classes at Vancouver First Aid
Private classes are available for groups of participants, businesses, and companies. Use the contact information posted above to inquire about a private course at your facility or the training centers.
Did You Know?
What do Chest Compressions do?
Compressing the chest mimics the action of a fully functioning heart, contracting and allowing the heart muscles to relax in order to fill up and pump blood to the rest of the body in the case of a cardiac arrest. Chest compressions are done in the middle of the chest along the nipple line.
For effective chest compressions, push hard and push fast.
Compressions should have a rate of at least 100 compressions per minute.
Compression depth should be at least 2 inches or 5 centimeters
Always allow for full recoil of the chest after each compression to allow for the heart to fill before the next compression
Compression: ventilation rate should be delivered at 30:2 for adults and 15:2 for infants
Enroll in a course with Vancouver First Aid today!