With Windsor First Aid, you can rest assured that you're receiving the best St Mark James training in Windsor. All training courses are St Mark James certification programs taught by St Mark James certified instructors. Windsor First Aid classes are the most popular in the area because the course rates are the lowest in the area. Other providers in Windsor can't compare with Windsor First Aid's full first aid and CPR training courses, stand-alone CPR classes, private classes, and refresher / re-certification courses for expiring awards.
How do I sign-up for Windsor First Aid?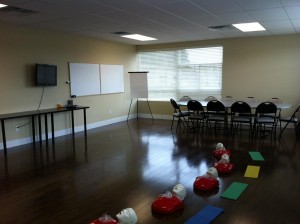 Click here to sign-up for the training course of your choice. A list of offered classes, schedules, and rates can be found through the link, on the Windsor First Aid homepage. Trainees may also complete their enrolment with the application form below or via e-mail or telephone call. Walk-ins during business hours are also highly encouraged. Use the following contact information or click the link below to be directed to our registration page.
How much are the certification programs?
Windsor First Aid has a large selection of St Mark James certification programs and refresher courses for the most affordable rates. Trainees don't have to worry about additional expenses after paying the enrolment fee because the course rates are inclusive of taxes, certificates, St Mark James registration fees, and training manuals.
Trainees who are unable to complete their enrolled course are entitled to a full refund, provided a 72-hour notice is given prior to dropping out.
What classes are available at Windsor First Aid?
Windsor First Aid boasts the largest selection of full courses and stand-alone classes in Windsor. Full training classes are available in three levels: "A", "C", and "HCP". All levels include AED and first aid training. The following list shows some of Windsor First Aid's most popular classes taken by trainees.
Standard first aid and cardiopulmonary resuscitation (CPR)
Standard Childcare 1st aid
Emergency first aid
Emergency childcare first aid and CPR
Basic Marine first-aid
Babysitting CPR and first aid
CPR Level HCP
CPR Level A
CPR Level C
Only the latest information is taught by instructors for first aid and CPR/AED training programs. The latest guidelines and techniques are taught to the trainees to make their skills the most competitive among trainees of other training service providers. Skill building is an important part of the curriculum, with a large portion of the class hours spent honing first aid and CPR, and AED skills.
How do I get my certification?
After a trainee completes his or her enrolled course, he or she receives a St Mark James training certificate, valid for three years throughout Canada. Certification through Windsor First Aid will surely meet any requirements by either school or work.
Refresher courses for expiring certificates are available at a very minimum of twice a week at the Windsor training facilities. Private classes and stand-alone CPR and AED classes are also available.
Did You Know?
Choking Emergencies
If you are alone and choking, continue to cough to attempt to dislodge the object or food and try to get someone's attention or call EMS.
You can also perform abdominal thrusts by pushing your abdomen towards a table or chair in quick bursts, mimicking the Heimlich maneuver's abdominal thrusts when performed by another person.
Register for first aid, CPR, and AED training through Windsor First Aid to be certain you receive the highest quality classes at the most competitive rates. Enroll in a course today!