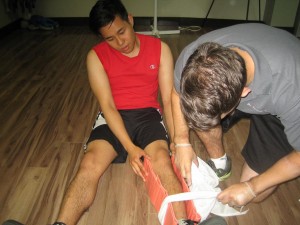 The best workplace-approved first aid and CPR training affiliate in the Okanagan are Kelowna First Aid. Training courses on first aid, cardiopulmonary resuscitation (CPR), and automated external defibrillation (AED) are available at different schedules throughout the week, with popular classes available on the weekends and evenings. Classes are available online, in a private setting, or in a classroom setting with the training center located just east of downtown Kelowna.  The most popular course available is standard first aid which teaches participants lifesaving skills and management of situations that include deadly internal/external bleeding, head injuries, broken bones, sprains, strains, fractures, and circulatory emergencies such as heart attacks and strokes. Learn to recognize and manage these emergencies by enrolling in CPR, AED, and first aid training in Kelowna today.
Enrolment is very easy! Click here for a complete list of offered courses, schedules, and rates then use the online application form on the Kelowna First Aid website or fill out the registration form below.
E-mails, telephone calls, and walk-ins during business hours are also encouraged.
On-line registration form to Kelowna First Aid
To register online for a course with this provider click the button below. You may also register using the Kelowna First Aid website which is provided, as well as other contact information.
Other Contact Methods
To sign up for a course or to get any of your questions answered use the following contact details:
Email: [email protected]
Telephone: +1 250-277-1944
Address: Room 301, 1634 Harvey Ave, Kelowna, B.C.
Website: www.firstaidkelowna.ca
Training courses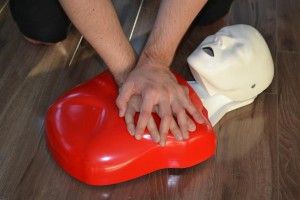 Training courses at Kelowna First Aid are available at various schedules throughout the week, with popular classes offered during evenings and weekends. Kelowna First Aid boasts the largest selection of classes in Kelowna – with all courses taught by St Mark James certified instructors.
A list of some of the most popular classes can be seen below.
Standard first aid
Emergency first aid
Childcare first aid
Babysitting training
Occupational first aid level 1 (WorkSafe BC approved)
Advanced first aid
WHMIS Training
TDG Training
Food Safe Level 1
Food Safe Level 2
H2S Awareness
Marine first aid
CPR level "A"
CPR level "C"
CPR level "HCP"
Basic Life Support
Advanced Life Support
Re-Certifications
Private Infant CPR training
Boat Safety Classes
The most popular courses are standard, emergency, and occupational first aid level 1. These training courses are the most requested and required by participants. Find out what course you need by using the contact information provided below.
First aid classes cover different emergency situations and the associated first aid skill needed with each. Popular lessons include skill training in bandaging, variations of the "J-Thrust" rescues, and wound care. Trainees develop a range of very competitive first aid skills.
Course Prices at Kelowna First Aid
Kelowna First aid offers the lowest rates for first aid, CPR, and AED training courses. No other provider in the Kelowna community has the lowest prices on first aid and CPR courses, stand-alone CPR classes, private classes, and refresher courses. Rates are inclusive of taxes, certificates, St Mark James registration fees, and training manuals and equipment.
If a trainee is unable to complete the enrolled training course, a full refund is given as long the trainee gives a 72-hour notice before dropping out.
Stand-alone CPR course price – 49 to 65 dollars
First aid and CPR Course price – 75 to 145 dollars
All prices include tax, manuals, and certification fees.
St Mark James Certification for Kelowna First Aid
Trainees who enroll in training courses often as about the kind of certification they will receive. Once a trainee is able to complete the training course he or she is enrolled in, a St Mark James training certificate for first aid, CPR, and AED is given to him or her. The certificate is valid all throughout Canada for three years.
Are Private Courses Available?
Private training programs are available with Kelowna First Aid. Popular private programs include infant CPR, standard, occupational, and emergency first aid. These programs vary in price depending on the number of participants. Use the contact information posted above to request a quote. Private classes can be held at the Kelowna training facility or an instructor can come to you.
Facilities
All courses are taught in high-end training centers, with spacious and well-maintained classrooms for the best possible learning experience. The training centers are easily accessible by public and private transportation and within walking distance of a number of amenities such as free parking and nearby restaurants.
Did You Know?
Seizures
Many people believe that the cause of seizures is a medical condition known as epilepsy. Seizures are caused by a rapid-fire of electrical signals in the brain that can be caused by a number of reasons including epilepsy. Other possible causes for seizures are:
High Fevers
Meningitis (inflammation of the meninges – tissue that covers the spinal cord)
Stroke
Brain Injuries
Lack of Sleep
Hypoglycemia
Diabetic Emergencies
Medication, Drug, and Alcohol abuse
Light (Flickering of Light)
Browse the Kelowna First Aid website to choose a training course that suits your needs. You will learn to manage different emergency situations after you have completed a course with Kelowna First Aid. Enroll now!