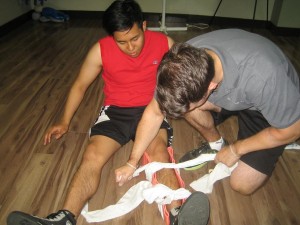 Calgary First Aid is the leader in first aid, cardiopulmonary resuscitation (CPR), and automated external defibrillation (AED) training in Alberta. It has grown to become the most popular training service provider in the area, offering the largest selection of training courses. This provider assures trainees of the lowest rate in H2S, WHMIS, and Transportation of Dangerous Goods courses – among others. Participants who complete first aid and/or CPR training in Calgary will receive workplace and academic approved certification that is valid throughout Canada for 3 years. Popular courses such as standard, childcare, and emergency first aid meet Alberta OH&S requirements. Other popular courses include pet first aid, private infant CPR training, and basic and advanced life support. You can find a complete list of classes and schedules here, or you can use the contact information provided below to inquire about a public or private course in your area.
Calgary First Aid Contact Information
Calgary First Aid is located conveniently just outside downtown Calgary. It is easily accessible by public and private transportation, with a C-Train station across the street and private parking within walking distance.
Telephone: 587-774-5317
Email: [email protected]
Website: www.firstaidcalgary.ca
Address: Suite 102, 750 – 11th Street SW, Calgary, AB T2P 3N7
This provider offers courses at several different training locations. The main training location is located at the address above. For more information about the amenities in the area or for directions view the Google map below.
What Will I Learn in an Alberta OH&S Approved Standard First Aid Course?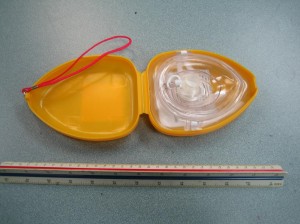 Participants that register for standard first aid, CPR, and AED training (two-day course) will learn about the following topics:
When and how to contact 9-1-1
How to respond safely to an emergency
How to check patient responsiveness and vitals
The primary survey
The secondary survey
Management of unconscious victims
Cardiopulmonary resuscitation (CPR)
Automated External Defibrillators (AED)
Breathing Emergencies
Circulatory Emergencies
Sudden Medical Emergencies
Bone, joint, and muscle injuries
Head, neck, and spinal injuries
Wound management
Environmental Emergencies
Legal implications of first aid and CPR
Compression only CPR
Learn about these topics and more by enrolling in a course today.
Class Rates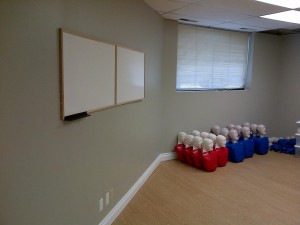 Calgary First aid has the most affordable rates for all instructional classes. No other training service provider in Alberta offers better rates than Calgary First Aid. All course rates are inclusive of taxes, certificates, St Mark James registration fees, and training manuals and equipment.
Standard First Aid – 127.99
Emergency First Aid – 89.99
Emergency Childcare First Aid – 89.99
Standard Childcare First Aid – 118.99
Trainees who are unable to complete their training course are entitled to a full refund as long as a 72-hour notice was given.
Extra classes
Stand-alone classes are available to trainees who do not want to take both first aid and CPR/AED classes in a full training course. Private classes are offered to big groups or companies, as well as trainees with scheduling problems who cannot enroll in any of Calgary First Aid's numerous schedules.
Certification with St Mark James for Calgary First Aid
Trainees who are able to complete the course are awarded a St Mark James training certificate, valid for three years throughout Canada. Refresher courses for renewal / re-certification of expiring certificates are available twice a week at each training location in  Calgary.
Enrolment
Trainees can enroll using the application form above or on the Calgary First Aid website. E-mails, telephone calls, and walk-ins during business hours are highly encouraged by Calgary First Aid's very helpful staff.
Did You Know?
CPR and AED
Standards in CPR and AED change every 4 or 5 years based on recommendations by large research committees such as ILCOR (International Liaison Committee on Resuscitation). St Mark James and all of the major first aid and CPR providers changed the standards in first aid and CPR in 2010 with the Basic Life Support (BLS) guidelines.
Basic Life Support was created by the American Heart Association to save lives after a person becomes a victim of cardiac arrest. The BLS includes (1) recognition of SCA or sudden cardiac arrest, (2) activation of the emergency response system, (3) early cardiopulmonary resuscitation, and (4) rapid defibrillation with an automated external defibrillator.
Enroll in a training course with Calgary First Aid to receive the latest training!