Fact Checked
Introduction 
When a person has neck pain or what they refer to as a stiff neck, usually this is nothing that they should be worrying about. After a few days, the pain or stiffness usually gets better. This problem can arise if you were to sleep in an awkward position, sit at your computer for a prolonged period of time, or strain muscles from having bad posture. There are also times in which anxiety and stress are to blame for this pain.
At Home Techniques for Neck Pain
Since neck pain or having a stiff neck is rarely cause for alarm, you can do several things for this issue at home. Keep in mind that you are going to want to ensure that you stay active and keep you normal routine. But, for dealing with the pain you can: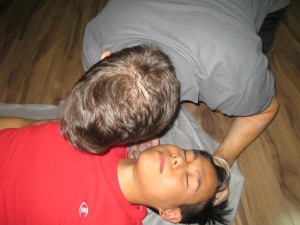 Utilize over the counter pain medications on a regular dosing schedule to keep the pain away
Utilize a heat pack or a water bottle of hot water to help with muscle spasms. Other people have found that cold works better
Ensure that you are not sleeping on too many pillows as this can force the neck to bend in a way that is not natural
Use good posture, as the way you sit can directly affect your neck
Do not wear a collar for your neck, as this can inhibit the natural motion which can cause other problems
If your neck is stiff or feels as though it is twisted, try some neck exercises. You can gently tense the muscles and then move your head from side to side. This can help to release the tension and help improve the motion range you have
Neck Pain Prevention
You can prevent neck pain through these tips:
Have good posture while sitting or standing
Take regular breaks when sitting, driving or the like so that your neck is not held in the same position for too long
Use relaxation techniques to help with stress
Try not to sleep on your stomach, instead try to sleep on your side and only use one pillow to keep your head level with the rest of your body
How To Treat A Stiff Neck
Treating a stiff neck can be annoying. Normally, there is pain and there might be some swelling. There might be an overall discomfort from constant contraction or overstraining of the muscle. There can be slight tears in the muscle and the link amid the muscle and bone might be injured. If it is more serious, there can be a connection of the tendons which form the construction between the bones. Joints can be inured which can all result in a stiff and painful neck.
Related Video on Stiff Neck