Los Angeles CPR is a California training provider that specializes in CPR and first aid training courses. We get hundreds of students each year who apply to our courses seeking certification. All of the classes we have available award students with certificates once they complete their enrolled programs. Even if you don't need certification and just want to get CPR and first aid training, you can! We have a website available where you can see all the courses we have available (plus their corresponding schedules and rates).
The big question: CPR or first aid training?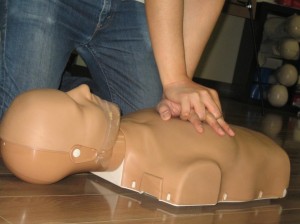 In Los Angeles, you will notice that most providers have two kinds of training – CPR and first aid. They separate the classes because some students only need or want to enroll in either CPR or first aid. However, for students who need both and only have time for one program, we offer our courses inclusive of CPR and first aid training.
When people experience cardiac and/or respiratory emergencies, it is usually coupled with an injury – especially if the victim suddenly loses consciousness. First aid is almost always needed by the victim aside from CPR. This makes both CPR and first aid important skills to have when managing a victim of cardiac arrest.
Training courses in CPR/first aid
Our courses are further divided into basic and advanced CPR/first aid training. Basic courses are shorter, taking approximately four hours while advanced courses are longer, taking approximately two days (between 14 and 16 hours) to complete.
Basic CPR and first aid for the public
Basic CPR and first aid for health care providers
Basic Life Support for health care providers*
Pediatric Advanced Life Support*
Advanced Cardiac Life Support*
The first three courses are basic and that last two are advanced courses. Only the last three on the list have available re-certification. Meaning, if your certificate approaches expiry, you can renew it through a re-certification class which is much shorter than the training program.  The three re-certification programs last 4, 5, and 6 hours respectively.
What do I learn in a CPR/first aid class?
CPR lessons focus mainly on basics in a basic training course. These basics involve the three core skills when giving CPR – compressions, ventilations, and defibrillation. Bystanders will usually be able to do the first two while the last can only be performed if a defibrillator is available. First aid lessons are similar, covering core skills that are used for a variety of common injuries. We teach students how to perform skills like bandaging and basic wound care in first aid lessons.
If you plan on enrolling in a program with us, you will have the best learning experience possible. Our classrooms are spacious and well-ventilated, outfitted with the latest in CPR training technology. We have advanced adult and infant training mannequins to simulate different emergency situations.
Sign up at Los Angeles CPR today!