Las Vegas CPR is home to a wide variety of training programs in CPR and first aid. For students who are looking to get certified or simply want to learn CPR and first aid skills, Las Vegas CPR has everything they could possibly need. We have a rigorous screening process for all our trainers, meaning all our educators are definitely the top in their field and know the latest lifesaving skills and techniques. Our curricula for all our programs are up to date, using the latest basic and advanced guidelines from the American Heart Association (AHA).
Sign up for a certification program today and learn how to be a trained rescuer!
How do I enroll in CPR/first aid training?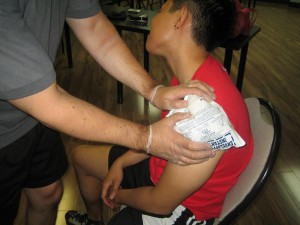 We want our training programs to be widely accessible so we offer a variety of ways to enroll for them. The most popular method among our students is online application. On the Las Vegas CPR website, we have made a form available all day where students fill in their personal details and their choice of training course and schedule. Other details and payment will still need to be finalized in person but reserving your slot for a class is quite easy.
Other methods are: e-mail, telephone call, and walk-ins (the last two are only available during business hours)
What if I want to take a CPR class and a first aid class? Do I need to take two classes at once?
At Las Vegas CPR, we offer a program that other providers don't have – CPR and first aid in one training course. We have five different CPR/first aid courses – two in advanced and three in basic training. Basic training is meant to the public and health care providers while advanced training is for health professionals who are allowed to perform medical management techniques on patients.
Our basic courses use the Basic Life Support guidelines while advanced courses use the Advanced Life Support guidelines – both created by the AHA to help rescuers when giving CPR and basic first aid.
The Chain of Survival
In both kinds of training, a series of steps called the Chain of Survival is emphasized. This chain highlights five major steps in giving CPR, from recognition to post-cardiac arrest care. While all steps are important, the first two steps are the most critical. The first step in any rescue is to recognize cardiac arrest in the victim. This can be very difficult, since most heart attacks happen outside of the hospital and bystanders are the first people to respond.
For responders who are untrained or not confident in their skills, pulse checking is not advised. If the victim suddenly falls unconscious and remains unresponsive to name calling, shouting, and vigorous shaking/tapping, immediately assume that he or she has had a heart attack or is in cardiac arrest.
The rest of the chain has the following steps: (1) recognition, (2) compression/ventilation, (3) defibrillation, (4) Advanced Life Support, and (5) post-cardiac arrest care.