Fact Checked
Pneumonia is an infection that causes inflammation of the air sacs in one or both lungs. The air sacs are filled with fluid or pus and will cause cough with phlegm or pus. There is fever, chills and difficulty in breathing. Various organisms such as bacteria, fungi and viruses can cause pneumonia. Pneumonia can be mild or a life-threatening condition and it can be detrimental for infants and young children, individuals older than 65 years old and also people with some underlying health conditions and weakened immune systems.
If you will enroll in a course on first aid today, you can readily manage the condition to help ease the symptoms experienced by the individual.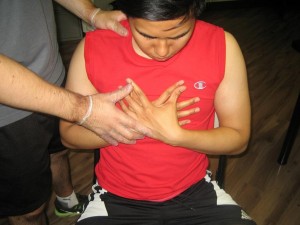 Symptoms of pneumonia
Low temperature among individuals older than 65 years old, people in poor health or a weakened immune system.
Fever, sweating and shaking chills
A cough that produces a thick and tacky fluid
Chest pain upon breathing or coughing
Shortness of breath
Headaches, fatigue and muscle aches
Nausea, vomiting or diarrhea
In newborn and infants, they vomit, have fever and cough and can be restless or tired and lack of energy as well as have difficulty breathing and eating.
Older people sometimes have sudden changes in mental awareness.
Causes of pneumonia
Lobar pneumonia is a bacterial-community acquired pneumonia that happens after a cold or respiratory flu.
Pneumonia can develop from fungi found in soil and in droppings of birds. It affects people with underlying health problems or a weak immune system.
Pneumonia can develop after being hospitalized which is called a hospital-acquired pneumonia and can be dangerous due to the bacteria since it is usually resistant to antibiotics.
People who are breathing through a machine such as a ventilator face a high risk of acquiring pneumonia.
People who are in kidney dialysis centers can acquire bacterial infections and have the high risk of pneumonia.
Aspiration pneumonia happens when inhaling food, drinks, vomit or saliva into the lungs and disturbance of the normal gag reflex such as from brain injury, problems in swallowing and excessive use of alcohol or drugs.
Treatment and home remedies
Get sufficient rest, even when starting to feel better and minimize overdoing it.
Stay away from school or work until the body temperature returns to normal and coughing with mucus has stopped. Pneumonia has the tendency to recur and it is best to return to school or work until fully recovered.
Drink plenty of fluids especially water in order to help loosen the mucus in the lungs.
Take the entire course of any prescribed treatment. If medication is stopped too soon, the lungs may continue to harbor bacteria and will cause the pneumonia to recur again.
Install a humidifier or a vaporizer with cool mist to help relax the breathing
Apply a hot compress on the chest in order to help minimize pain.