Fact Checked
Deep vein thrombosis is a blood clot or thrombus in a deep vein and usually occurs in the legs. Clots usually occur in the superficial veins as well as the deep veins. The clots that develop in the deep veins need medical care immediately. This is a dangerous condition since the clot can break and spread through the bloodstream up to the lungs which can cause blockage of the blood flow to the lungs.
Symptoms of deep vein thrombosis
Swelling of the affected leg
The affected leg is red and feels warm
The calf or thigh is tender when touched
Pain in the calf or thigh when the affected area is touched, when standing or walking.
Causes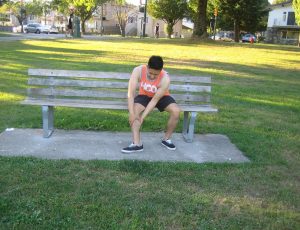 Abnormal clotting problems that makes clotting of blood too easily or very fast
Diminished flow of blood which happens when not active for long periods of time
Damage to the blood vessels since blood can clot in the veins after they are injured.
Treatment
Take plenty of rest especially the affected leg.
Elevate the affected leg when resting at least 3-4 times for 15 minutes at a time every day to lessen the pressure in the veins. Elevate the leg higher than the hips.
Wear compression stockings.
Perform exercises regularly to lessen the risk of blood clots and deep vein thrombosis. Take a walk at least for 30 minutes or more for 5 times every week to increase the circulation of blood in the area. Another alternative is walk around every 2-3 hours for at least 10 minutes. Go for a swim, bike, jog and other similar activities a few times in a week. Perform some simple exercises for the foot and leg for at least 15 minutes in the morning every day.
When sitting for long periods of time, exercise the leg frequently.
Eat foods rich in vitamin E content. Vitamin E has antiplatelet and anticoagulant properties that can prevent blood clots. Foods rich in vitamin E content include almonds, walnuts, spinach, broccoli, olive oil, sunflower seeds and avocado.
Perform exercises for the lower leg muscle for proper circulation of blood in the area.
Tips
Avoid crossing the legs when sitting to increase circulation of blood in the area.
Avoid wearing tight clothing that restricts the flow of blood.
Maintain normal levels of cholesterol and blood pressure
Stop smoking
If traveling long distances by car, stop every hour and take a walk around.
Disclaimer / More Information
The material posted on this page on deep vein thrombosis is for learning purposes only. Learn to recognize and manage circulatory emergencies including deep vein thrombosis by taking a first aid and CPR class with one of our training providers.