Basic Life Support is our most popular kind of CPR training class among laypersons and health care providers. As heart disease remains the world's number one cause of mortality, it pays to know how to recognize a heart attack and give CPR. CPR, when performed correctly and within the first ten minutes, can raise chances of survival by twice to three times as much. If you need CPR and first aid training certification, please visit our location pages and offered classes and enroll in a program today!
Signing up is easy!
To make things easier for our prospective trainees, each of our six locations has its own webpage and sign up form. The form can be found on the website and is available all day – meaning you can sign up for a class whenever you are available. This is great for trainees who work during the day or have class. However, keep in mind that forms sent through the website (as well as e-mails) are only processed during business hours, so keep an eye out for our confirmation during that time.
First aid AND CPR training?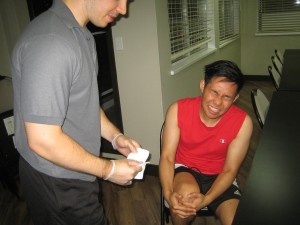 Yes, all eight of our programs include both CPR and first aid. CPR is the main topic covered by the program but we include basic first aid lessons for common injuries and conditions. When people get heart attacks, it is usually quite sudden and rarely happens in the hospital. Despite information being readily available on the internet and even from your personal physician, a lot of people don't seek immediate medical attention when they first notice the signs and symptoms of a potential heart problem. This leads to an increased incidence of out-of-hospital cardiac arrests and injuries resulting from suddenly losing consciousness.
Our first aid lessons teach skills such as bandaging, basic wound care, splinting, and burn management. Same with the CPR lessons, we allow students to practice their skills on training equipment, specifically mannequins with fully-stocked first aid kits.
Program list
All of our branches have the same set of programs available, as well as the same rates and training fees. To give you an idea of what courses you can enroll in, here is a list of our programs.
Basic training
Our first kind of program is basic CPR and first aid training. They last typically four hours a day, including lectures and hands-on training, for around 4 hours.
Heartsaver CPR and first aid (public class)
Heartsaver CPR and first aid C (health care providers)
Basic Life Support for health care providers*
Advanced training
Advanced training is only for allied health professionals, or providers who are allowed to use and set up medical equipment, as well as administer medication. These are longer, taking 16 hours over two days to complete.
Pediatric Advanced Life Support*
Advanced Cardiac Life Support*
*re-certification available
Certification
Certificates expire 24 months after they are issues but can be renewed through a re-certification class. If your credential has expired, you cannot sign up for re-certification; you have to retake the training program again instead.