A Basic Life Support program covers a lot of ground – CPR (cardiopulmonary resuscitation), automated external defibrillation (AED), and basic first aid. This is why basic training is the most popular course our trainees sign up for. With the death toll due to cardiac problems remains at the top of the world's mortality rates, learning CPR has never been more important than today. CPR is no longer a skill that only health care providers have to have. Visit our website and see what kind of training you need!
Signing up for a class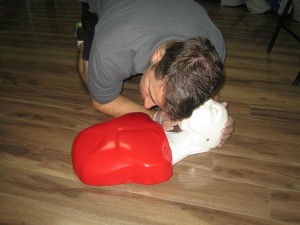 Here are a few tips on signing up for a training program:
Our classes are always full because of the amount of trainees who enroll in them. Even with extra classes during the evenings and weekends, we sometimes cannot accommodate everyone who signs up. So sign up early!
The easiest (and therefore the most popular) method of enrollment is on our provider websites. There is an online form available 24/7, which allows you send in a few personal details and chosen program. We send confirmation details during the next day (business hours).
You may also enroll through e-mail, over the telephone, or in person! Whatever is most comfortable for you.
What is Basic Life Support?
Because CPR is a medical skill, it requires a set of universal guidelines that rescuers have to follow. The American Heart Association releases updates on the skills and techniques used in CPR every few years, with the latest being the 2010 BLS guidelines. The guidelines include an algorithm that rescuers follow, along with details on the three skills used: compression, ventilation, and defibrillation. They also include management of respiratory emergencies such as choking.
The algorithm – "Chain of Survival"
Starting the Emergency Response System
Chest compressions and Ventilation
External Defibrillation
Advanced Life Support
Post-cardiac Arrest Care
In order to provider the most effective CPR, the algorithm has to be followed and the skills have to be performed adequately to ensure proper circulation and oxygenation of the body. Basic skills include:
Compressions – Manually compress the heart and allow blood to circulate
Ventilation – Oxygenates the blood through rescue breaths (either mouth-to-mouth or with a bag valve mask)
Defibrillation – Sends electricity to the heart to return it to a normal rhythm
Getting certified
Most of our students enroll in training because they need certification. We offer certification for all our courses, valid for 24 months before it expires. Trainees need to renew them before they expire or else they won't be able to sign up for the shorter re-certification classes. Trainees with expired credentials are required to take the training program again to get a new certificate.
Available classes
Basic CPR and AED (general public)
Basic CPR and AED C (health providers)
Basic Life Support for Health Providers
Advanced Cardiac Life Support (professionals)
Pediatric Advanced Life Support (professionals)
Program length ranges between 4 hours and 16 hours. The advanced courses are generally longer, taking two days to finish instead of a single four-hour session. Re-certification classes are generally shorter as well, lasting between 4 and 6 hours.