Learning CPR used to be very difficult because only certain teaching hospitals made lessons available to outsiders or lay persons. However, as more research was performed on CPR and cardiovascular emergency care, it was discovered that a lay person who was able to give chest compressions could improve patient outcomes by twice or thrice. We are dedicated to training not only health care providers and professionals but also members of the general public interested in learning basic CPR and first aid.
Enrollment is quite easy. Visit each location's webpage and you will find an online application form you can fill out in signing up for a class. The form is available all day and your requests are sent to use real time. However, we are only able to read and process them during regular operating hours so expect a reply during that time. Students may also use the telephone or e-mail to contact us if they have any inquiries. Walk-ins are highly encouraged by our staff!
CPR and first aid programs at our providers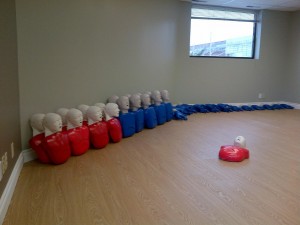 All of our offered CPR classes are certification courses for CPR and first aid training. We include both CPR and first aid in a program because major and minor injuries usually accompany cardiac arrest, since the victim typically falls unconscious and can be injured as he or she falls down. We have three basic and two advanced courses available, and only three of those have re-certification classes that accompany them.
Basic training focuses on three core CPR skills – (1) compression, (2) ventilation, and (3) defibrillation. First aid for wound care, bandaging, splinting, and burn management are also included in the basic programs.
Basic Life Support for health care providers – 4.5 hours
Basic Heartsaver C (HCPs) – 4.5 hours
Basic Heartsaver (lay persons) – 4 hours
Advanced training no longer emphasizes training on the basics, but focuses instead on advanced medical management. This can include medication administration and set up of medical equipment. Because there is no longer an emphasis on the basics during advanced training, we require students to take the Basic Life Support for HCPs class first.
Pediatric Advanced Life Support – 14 hours
Advanced Cardiac Life Support – 16 hours
We are located all over the country, in six cities and five states. Choose the one nearest you and sign up for certification training today!
Los Angeles, California
San Francisco, California
Honolulu, Hawaii
Las Vegas, Nevada
Portland, Oregon
Seattle, Washington